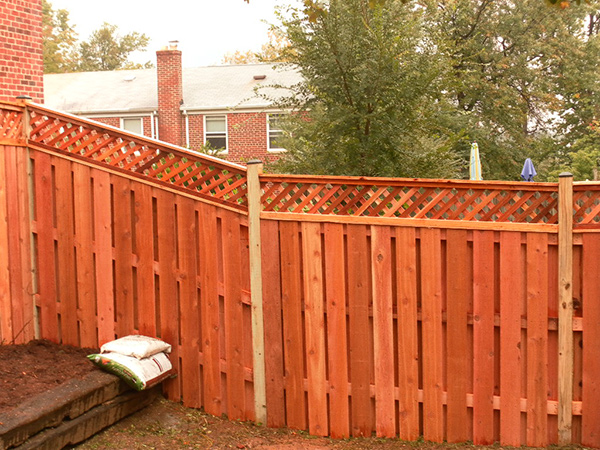 How to Build a Fence on a Hill
Building a fence on a hill is a challenging project since the pickets and posts must remain plumb no matter the ground below it. To solve this problem really depends upon the type of fence that you will be building. Are you building the fence from scratch or are you going to be using preassembled fencing panels?
Building a Fence From Scratch
When building your fence from scratch and using individual pickets, you can easily stagger or 'rack' each picket to follow the hill. Remember, this will only work if you are building your fence from scratch and doing each picket individually. This method doesn't work with any type of preassembled fencing panels.
An advantage of this method is that the lengths of all the pickets and posts will remain the same throughout the entire fence, regardless of how steep the hill gets. Since you will be building this fence from scratch, you can make it, so it hugs the ground of the hill without having any big gaps underneath it.
For this method, you want to start setting your posts plumb and try to keep them the same height off the ground. Next, you want to attach your horizontal rails between your posts. Try to keep these as parallel to the ground as you can, as opposed to being level. Lastly, attach your fence pickets one by one to the rails, making sure that they follow the hills slope.
Building a Fence Using Preassembled Fence Panels
When you use preassembled fence panels to build your fence on a hill, the entire panel has to be stepped either up or down so that it will remain level. With this method, your fence posts are going to be installed plumb, while each of the panels will step higher or lower depending upon the slope of the hill. Keep in mind that choosing the right spacing for fence sections will play a major role in your project.
With a stepped fence, the fence posts you use on the hill are going to need to be longer, as there will be some extra height from the fence panels. This means that each of your fence posts is going to have to be measured and then cut to fit individually. This, of course, all depends upon the slope of the hill in any particular spot.
Fill the Gaps in Your Stepped Fence
With a stepped fence, the entire section of a fence is going to be level. This means that there will more than likely be gaps underneath the lower end of the panel. While this may not bother you, if you have pets or children that you are trying to keep contained within your yard, you will have to address these gaps.
While there are several different things you can do to cover these gaps, installing some raised planters in front of the fence or even planting some type of bush will work well to help hide any gaps.
While building a fence on a hill sounds like it may be much more work than you are willing to do, it can actually be a smooth project if planned out correctly. That is why it is important to survey land before building a fence and getting your fence posts right. Do this, and your fence building on a hill be done before you know it.